When a person goes to rehab, it's normally after a long period of anguish and loss. Now that they are in rehab, they know they are going to get clean and sober but the transition can be difficult. That's why Narconon Arrowhead makes sure that holiday events for their clients serve as a message that their sober future is going to be fun. Much more fun, in fact, than any holiday they ever spent high or drunk.
This Fourth of July had all the traditional fun you might expect. The first order of business was a barbecue that was open to all clients, families of the staff and members of the community. The local Volunteer Fire Department was there to ensure safety but since everything went smoothly, they were able to enjoy the barbecue alongside the clients and other guests. The spread was pure Americana with hot dogs, hamburgers, french fries, baked beans, deviled eggs, watermelon and assorted drinks and desserts available.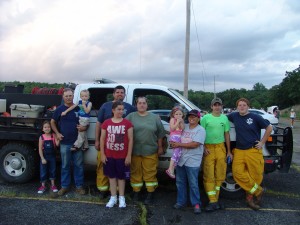 Narconon families were joined by the local
Volunteer Fire Department.
Swimming and, as Soon as It Got Dark, Fireworks!
Since the center is located on a hill right above Lake Eufaula, a swim was the next item on the agenda. Anyone who wished to jump in made the short trek to the beach at the base of the hill below the lodge. After a short wait while more food was consumed, the night sky was lit by a full hour of fireworks.
While a traditional Fourth of July party is fun, what happens in the hearts of these individuals going through rehab is far more significant. It's not uncommon for a person attending one of these events to say, "This is the first time I've been sober at a party since I was a teenager. I had more fun than I expected."
Having a chance to take a break from their studies on the Narconon program and just have fun also lets them see how far they have come. So many people use drugs to conceal their pain or discomfort in social situations and these people in recovery may surprise themselves with their new abilities. Maybe they can now enjoy conversations easily or simply take an interest in another person just because it's fun – and maybe they start a healthy, sober relationship at the same time. At Narconon, even the festive holiday fun is part of the healing.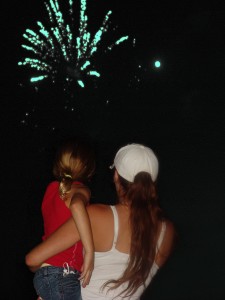 ---
A Centers for Disease Control and Prevention (CDC) study last month found that the four Appalachian states of Tennessee, Kentucky, Virginia and West Virginia experienced a more than 3-fold increase in Hepatitis C cases between 2006 and 2012.
Four Appalachian States
According to the CDC, Kentucky ranks first in the nation for its rate of acute Hepatitis C cases, citing 4.1 cases per every 100,000 residents. The CDC reports that number exceeds the national average more than six times.
According to a WVLT online article, some public health officials express concern that rural Appalachia is courting a potential HIV catastrophe due to its epidemic of injection drug abuse—a primary means of transmitting Hepatitis C.
University of Kentucky Center on Drug and Alcohol Research epidemiologist, Dr. Jennifer Havens, cautions that it takes only a single person to become the "Typhoid Mary" (Mary Mallon—known as Typhoid Mary; the first person in the U.S. identified as carrier of the pathogen linked to typhoid fever) of HIV.
An outbreak of Hepatitis C transmitted through unprotected sex and injection drug use may presage a wave of HIV cases.
Dr. Havens, who has been tracking some 503 drug users for the past seven years notes that 70% of them have Hepatitis C, a disease that often leads to cancer and destroys the liver.
In May of 2015, the CDC reported that the rate of Hepatitis C increased 364 percent in the four-state area of Tennessee, Kentucky, Virginia and West Virginia.
Knox County, Tennessee is experiencing a yearly rise in the number of Hepatitis C cases, and has since 2010, logging 25 cases in 2014. The county of Sevier reported 12 cases, and the County of Grainger reported eight.
According to Karen Pershing of the Metropolitan Drug Commission, there is a decades-old problem that underlies the current outbreak of Hepatitis C, citing a cultural issue that dates to moon-shining. Pershing says that many addicts put down the liquor bottle—and picked-up the needle.
Pershing notes that rural areas are also experiencing higher rates of prescription drug abuse.
Solving the Problem
Kentucky is opening needle/syringe exchange programs in its largest cities this summer in an attempt to curb the potential HIV threat. Rural communities in the Appalachian region, on the other hand, are not so quick to embrace this attempted solution, expressing concerns as to whether or not the needle exchange programs prevent drug use—or facilitate it.
Laws in the state of Tennessee do not provide for needle exchange programs.
Local governments in Appalachia are wrestling with the problem of how to stop the epidemic of Hepatitis C, and facing the damage-control type choices of drug treatment, jail, or needle exchange programs.
Dr. John Ward, Director of the Centers for Disease Control and Prevention's Division of Viral Hepatitis, notes that the recent outbreaks have occurred amongst young, white drug users in rural areas. In times past, the Hepatitis C problem mostly afflicted urban minorities.
The Kentucky River District Health Department serves seven small Southeastern Kentucky counties. Director Karen Cooper says that in such communities, a fear of exposure as a drug user may keep injection drug users away from a needle exchange program there.
Others take a stand on moral grounds, objecting to the needle exchange programs in the belief that they do not prevent drug use, but instead facilitate it.
Clay County, Kentucky resident and recovering addict, Ben Barlow, is positive for Hepatitis C. He believes a needle exchange program is akin to "giving a gun to someone suicidal."
Needles on the street are currently bought and sold for 5 bucks, give or take, and it is a harsh look at our desperate need for drug prevention education and workable treatment that results in true rehabilitation.
---
Before Derek fell into drug use, he had a successful career as a mechanical engineer. He was a project manager in Detroit, helping to establish assembly plants. Although he was undoubtedly successful in and very satisfied with his career, it was also very stressful to keep up with the pace of his busy life, and he turned to drug use in order to cope. Unfortunately, his drug use quickly escalated into drug addiction, and it wasn't long before he began to lose everything he had worked so hard to establish. He lost his family, his house, his car, all the relationships he had spent his entire life building – everything that had once meant the world to him.